Intelligent control. Audio perfection.
Intelligent control. Audio perfection.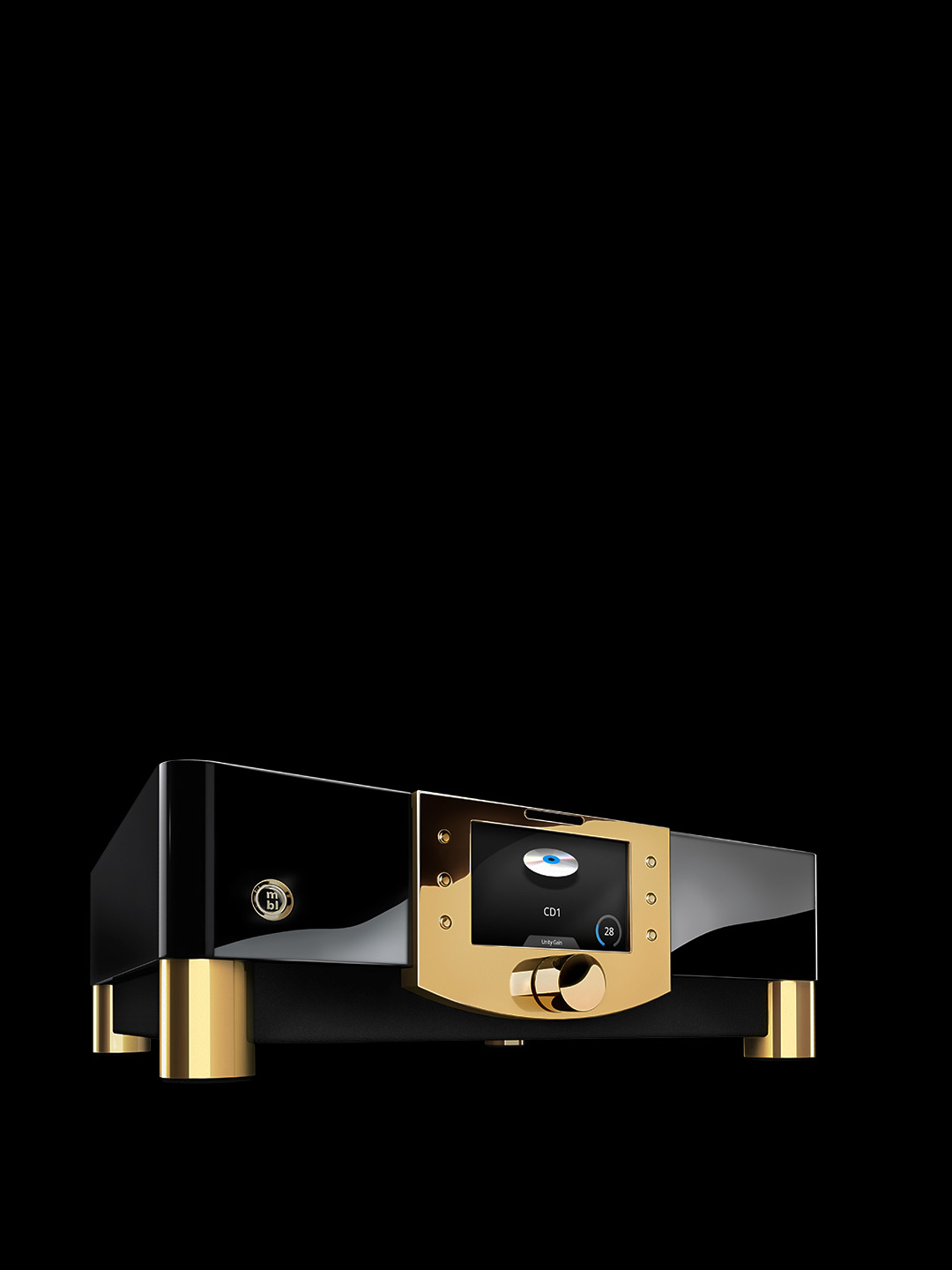 MBL N11
Preamplifier
Preamplifier
MBL N11
Preamplifier MBL N11
Appearances matter.
It begins with six discreet soft-keys, a crisp, entrancing matte display, and a solid tactile volume knob gracing the lacquered faceplate of the MBL N11 Vorverstärker. Aesthetic heaven? Naturally. But what is beauty without brains?
MBL's SmartLink 2.0 delivers a system network that synchronizes all Noble Line components connected to the N11 preamplifier. Every command is effortlessly managed by the touch of a key on the display, or a button on the classy backlit remote control with built-in chrome rotary volume ring.
The N11 back panel offers a brawny array of choices, with up to five pairs of XLR jacks, nine gold-plated pairs of RCA jacks, and two sets of output groups. For your vinyl collection, the N11 comes with an optional on-board MC phono module, which can be custom loaded at MBL's production facilities to impeccably match your turntable, tonearm and cartridge.
Sophisticated mechanical design regulates the listening volume. Perfect balance between left and right channel output is delivered by the N11's in-house designed, stepper-motor-driven, sealed precision potentiometer. For the best possible isolation from interference, the signal routing has been meticulously designed for maximum common mode rejection. The N11 uses single-gain stage circuit amplification – ideally suited for delicate input signals. This Noble Line preamp effortlessly addresses different input and output sensitivities by matching the output voltage to the input sensitivity of the power amplifier. Noise and distortion are never unnecessarily amplified. The result: lifelike musical dynamics, an extremely high signal-to-noise ratio, and exceptionally low distortion – a clever technique of refined voltage adjustment known as MBL Unity Gain.
The MBL N11 presents a sumptuous chassis with timeless design, a smart control network, the finest quality parts and materials, and state-of-the-art circuit technology, all brought together in the classic tradition of German engineering prowess. Bristling with technical and design excellence, the N11 achieves its single goal of music playback at the highest level of perfection.

"…Its performance on the test bench reveals the widest-bandwidth, widest-dynamic-range, lowest-noise,
lowest-distortion preamplifier I have encountered."
John Atkinson, STEREOPHILE
---
* custom colors available
Less is More with Unity Gain
Engineers who design high-end electronics use high-quality, hand-selected components and ingenious circuit designs to squeeze out every decibel of dynamics. Yet there is one link in the chain of components where these dynamics can be compromised or, at times, even wasted. That "weak" link is the preamplifier. Incoming signals are usually amplified by as much as 12 decibels by the preamplifier before they are passed on to the power amplifier. This makes perfect sense for analog sources such as turntables with phono stage preamplifiers, or step-up transformers, tuners or tape recorders. Such sources and components deliver between 0.5 to 0.75 volts of output, which is not enough since industry standards dictate that a power amplifier needs 2 volts of input to deliver its full power. It is completely different with digital sources. They supply the preamplifier or integrated amplifier with the required 2 volts. Additional amplification is not only unnecessary, but harmful since the background noise and distortion are amplified to the same extent.
The Unity Gain function, which is used in the Noble Line N51 integrated amplifier and N11 preamplifier, capably adjusts for this. The volume of the input signal is adjusted via solid brass knob or via remote control. It then passes through the signal paths without unnecessary amplification, providing a measurable and audible gain in dynamics. If a source with a weak signal is used, a signal path with amplification (more precisely, with 8 dB instead of the usual 12 dB) sends sufficiently high output voltages to the output stages. This clever work of proprietary engineering delicately moves the volume control slightly counter-clockwise as if by magic when deactivated, or clockwise when switching to "Unity Gain". This avoids sudden volume spurts and produces a rich sound experience with improved dynamics and less noise.
One-tip operation – MBL SmartLink
The components in the Noble-Line system are in constant contact with each other - and not just via the signal cables. MBL SmartLink is the name of the connecting element. It is an intelligent communication network for greater ease of use of your MBL Noble Line of electronics. For example, a single press of the start button on the beautiful remote control is all it takes to turn on the CD player, switch on the amplifiers and hear the first track play. And to avoid having your speakers suddenly blasting out because the volume was left on loud, a turn-on level can be set via the on-screen menu.
Intelligence personified.
The N11 at a glance
Ease of music source selection through MBL Smartlink system management
MBL Unity Gain feature increases dynamics, resolution and lowers noise and distortion
Two switchable output groups
Analogue potentiometer volume control via stepper motor
Inputs can easily be disabled, allowing for quicker source selections and minimizing noise
Adjustable volume limit at power-on
Backlit remote control with elegant rotary volume dial allows for precise adjustments
Optimal common mode rejection of inputs and outputs
5" TFT High Resolution Color Display
Technical Specifications
Inputs
2 x CD (RCA) 3 x AUX (RCA) 1 x Pass Through (RCA) 2 x XLR 1 x optional phono 1 x optional 3rd XLR
Outputs
3 x RCA (2 x group 1, 1 x group 2) 2 x XLR (1 x group 1, 1 x group 2) 2 x Fixed Out / Record Out (RCA, XLR)
Other Inputs/Outputs
Ground connector for phono MBL SmartLink SD slot for updating
Weight
18 kg / 39.7 Ibs
Recommended System Components
Power Amplifier N21
ab 10840 € inkl. MwSt. und Versand
Mehr erfahren
Power Amplifier N15
ab 11597 € inkl. MwSt. und Versand
Mehr erfahren
MBL 101 E MKII
ab 47647 € (pair(s)) inkl. MwSt. und Versand
Mehr erfahren
Well-balanced Noble Line systems